Spring is the season of freshly blooming flowers, gently swaying trees, and warm sunshine. But when it comes to interior designs, it is reinterpreted in an entirely different way.
While people like to redecorate the mainstream parts of their homes such as living rooms, bedrooms, and dining areas in blooming flowers, colourful artwork, and brightly coloured accessories, this theme has to be articulated in a completely different way in the kitchen.
Because of its functionality and practicality, you have to be very strategic with this theme in the kitchen. So, here are 5 creative ways to give your kitchen a spring makeover.
Add some flowery textures
What's the motif that denotes spring season the best? Flowers, don't you agree? There are many ways to emulate this motif in your kitchen interiors.
You can start by featuring floral home accessories on your countertops for some bright contrast and beautiful patterns. You can spring-ify the ambience further by replacing your drab old curtains with sheer or floral prints on the kitchen window. You can even update the upholstery on your bar stools/chairs if you want to go all the way. Laura Ashley is a pioneer in everything floral, and you can decorate your kitchen at a bargain price with these amazing Laura Ashley deals, for example the "Decorating Event" is now active with a 50% discount on wallpapers.
Time to grow that indoor herb garden
Nothing says 'spring' in the kitchen better than a window sill brimming with fresh herbs. Now that the frosty winter has ebbed away it's time to break out those colourful pots (or kits) and get started on your indoor herb garden.
You can even paint the planters in colourful hues like red, yellow, blue, and more to match with your spring theme. Don't be worried about trying out your green thumb on an indoor herb garden because herbs are easy to grow indoors – especially chives, mint, basil, cilantro, thyme, and more. Just a little bit of care everyday can make your kitchen feel spring fresh for a long time.
Organize that open cabinet with spring essentials
If you've got an open cabinet in your kitchen, then it's time to rid it of that outdated winter paraphernalia and load it up with the latest spring gear. Fresh indoor planters – both the fake ones and the authentic tiny air plants – can be sporadically set up in between decorative glass bottles and mason jars that you can fill up with tasty spices.
Scented candles set up on trendy candelabras and cookbooks with colourful spines can be arranged along the periphery. You can even feature your coffee mug or tea-cup collection here to make it feel more vibrant. Small transparent bowls or mason jars full of scented dried herbs, sea shells, and marbles could be another creative idea to give your open cabinet fresh look.
Photo by Jason Leung on Unsplash
Organize a gallery wall
A gallery wall in the kitchen may not seem like the most feasible idea, but it's certainly a good one. There is a lot of opportunities here to bring in the essence of spring without making space feel drab or boring.
It doesn't even have to be a typical gallery wall of family photos or abstract art. You can personalize this venture by hanging a letter board, creating a labyrinth of hang-able kitchen utensils, and even frame a few of your favourite herbs in an asymmetric setting on the wall.
To spice things up a bit, you can organize a bunch of small indoor planters, spice bottles, and cookie jars right underneath this arrangement. This will definitely give your kitchen a spring touch.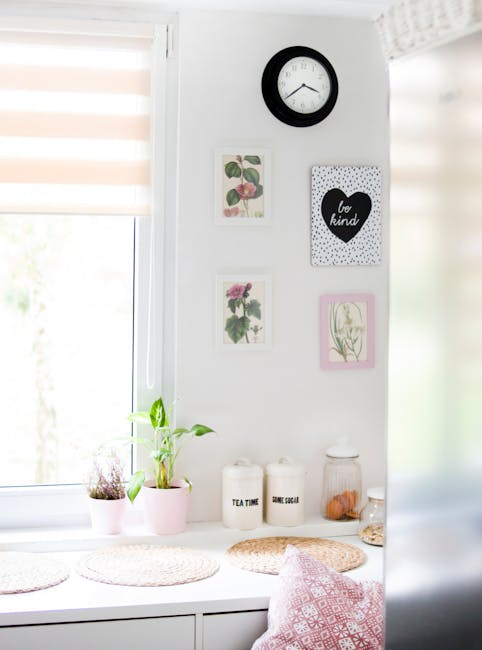 Take creative liberty with the décor
Many homeowners have just a very conventional view of what spring accessories are and how they can be emulated in their kitchen. Most people simply go for a vase full of flowers and be done with it. But spring accessorizing can be so much fun – especially when you're working on space as alive and functional as the kitchen.
There are décor opportunities in everyday essentials; a bowl full of ripe tomatoes on your lush countertops, a tray brimming with luscious fruits at the entrance, a small bowl full of spicy potpourri, a vase with dried herb twigs instead of typical flowers next to your spices – all of these items can enhance both the functional and visual value of your kitchen. Every time you'd enter, these things would feel like a breath of fresh air without looking overly contrived or forced.
As you can see, it's important to keep both functionality and aesthetics in mind while making over your kitchen for spring. We hope these ideas inspire you to get the best looks for your kitchen interiors this year.